Y'all. Let me start this off by saying that this city is an underrated vacation spot. When we told people where we were vacationing to Toronto.. in May (a rainy season), lots of people questioned our choice. "Toronto?? Canada...? But why?" I imagine it's just more popular to go to the UP or Chicago or Mexico or wherever but my mind was absolutely blown by how perfect it was. You'll hopefully understand why after this post.
Looking back I wish that we had spent twice as much time exploring. There were many more restaurants, bars and coastal areas we could have visited if we had the time (and extra $$). We went from a Friday-Monday for our second anniversary and it's about a 6 hour drive from where we live in Michigan. We love, love love exploring the food and coffee scenes when we visit new places and to be honest I expected it to be kinda average. I did NOT expect the Cuban restaurant, dark cocktail bar and coffee shops to blow my mind, but they did.
This photo is a photo of my dream home, not the home we stayed in. This is just to show you the houses we were close to. Dreams. We stayed in a small basement unit Airbnb in a wealthy little part of the city, charmingly called Little Italy, where houses were worth upwards of one million $. We were about a mile so outside of the downtown and could walk everywhere with proper shoes. We uber'd a few times, though, since I'm a wimp and it was chilly. We only went downtown once or twice for good reasons (Pho and photos) and primarily stayed in Little Italy, venturing around Ossington Ave, College St, Dundas St. and Queen St. You do not have to go downtown to have a good time in Toronto.
The time of the year was perfect for all the blooming flowers and the trees were dropping tiny white petals all over.
The first day we did a mini coffee crawl of course (and no we didn't go inside that Starbucks even though the architecture of the building looked kinda rad). The first stop was a little shop with a single espresso machine and enough room for MAYBE 3 people inside. It was the first place we stopped at and mostly just because it said COFFEE on the sign. Mack wasn't totally impressed but the guy has high standards, what can ya do. We moved on quickly because we had gotten our caffeine and there was no where to stand or sit.
Gosh, let me tell you how much I love penny tile and cortados. SO MUCH IT HURTS. Our second stop:
Reunion Island Coffee.
I really loved this shop for several reasons.
1. They had places to sit.
2. PENNY TILE DOOOOODDDDDDD
3. It really really inspired my vision for our kitchen at home. White, wood, plants and quality hospitality. I loved how chatty the baristas were with Mack (Mack chatting up the baristas about coffee!? Whaaaat? I know right? So surprising!) and they didn't seem frustrated that he wanted to ask a bunch of questions.
4. Cortados are very important to me. A good cortado will make my day, while a bad one will ensure that I don't recommend your coffee shop to anyone, ever. Also, I got mine with almond milk (a very challenging aspect when trying to make a good cortado because steaming almond milk to the right texture is harder than whole milk), and they nailed it. They even attempted a little heart (also challenging with almond milk). So props to them.
Sidebar: A few minutes after visiting Reunion Island, we hopped over to a little gift shop where Mack bought a new pin for his coat and I saw a strange card that gave me uncomfortable feelings.
Thankfully, I got to meet the shop dog and all was well with the world.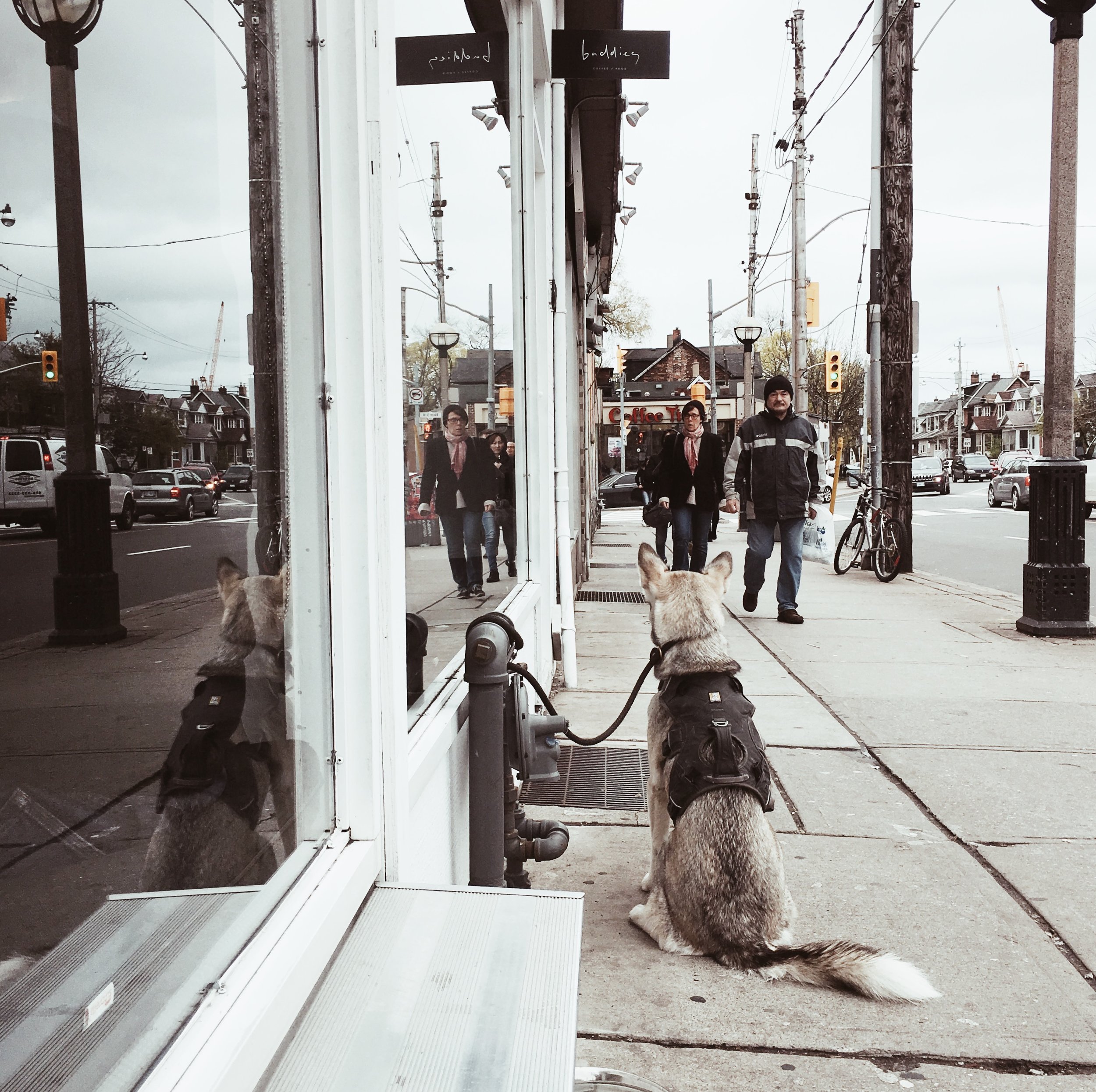 Next was Baddies, a little Australian owned teeny tiny coffee shop serving 49th Parallel Coffee (out of B.C.) We attempted a visit there before Reunion Island but they were packed and we thought it'd be best to come back later. We were right. When we got there, we got to sit right in the midst of everything and it was the best shop by far. Mack got their famous Brekkie Roll which was a delicious mix of all his favorite things. And I got some incredible avocado toast; see below.
Mack aesthetically complimented the shop by sporting his new hipster pin with the word "Feels". The Feels pin made me "feels" less uncomfortable after the Beyonce card incident.
Last but not least: Sorry
Sorry Coffee was what brought us downtown for the first time. Decor and branding on point and it was in a high end building with J.Crew and all that jazz. They were ALSO super stoked to chat with Mack about all things coffee which is a hospitable quality that we look for when traveling to other coffee shops.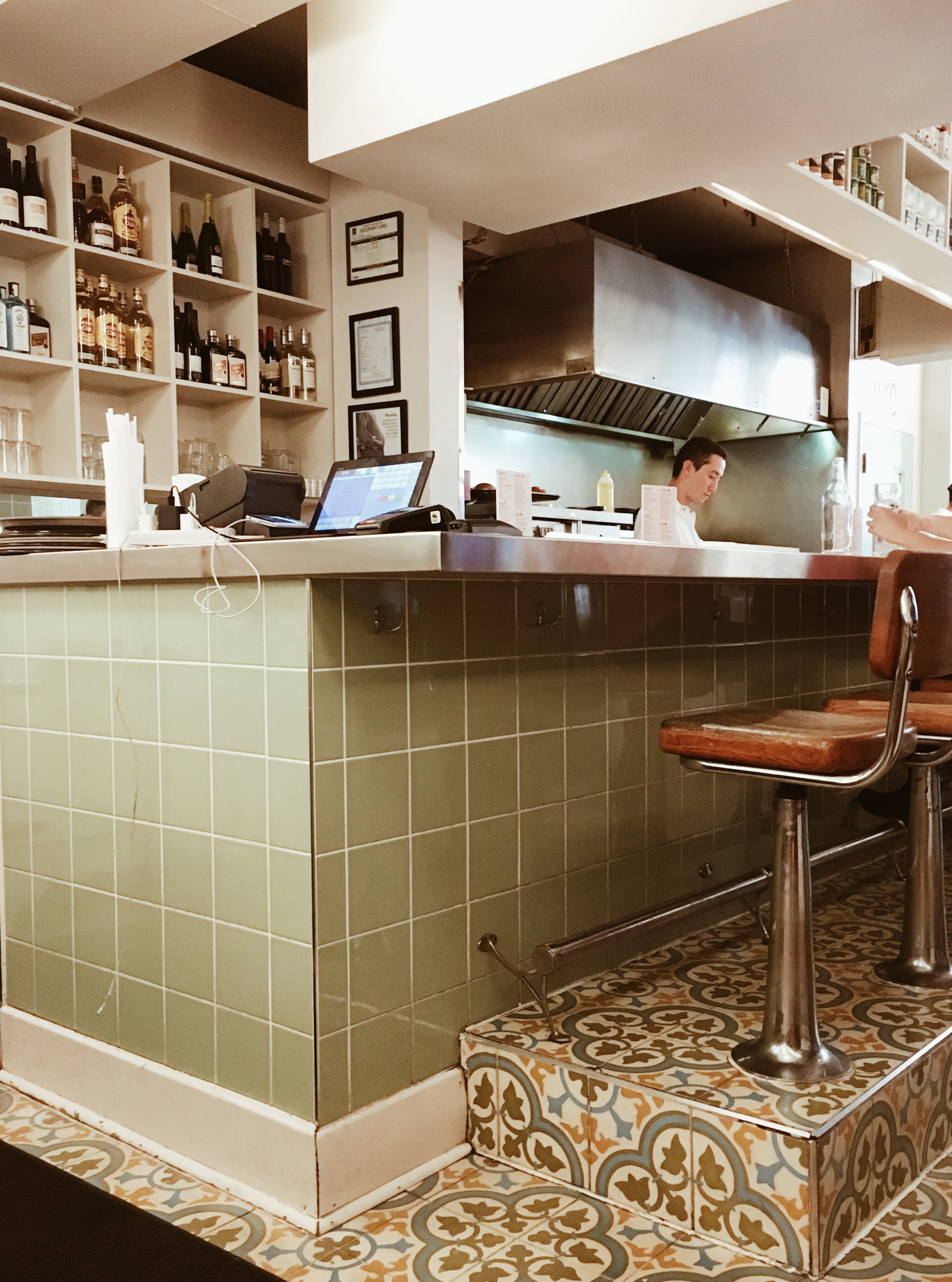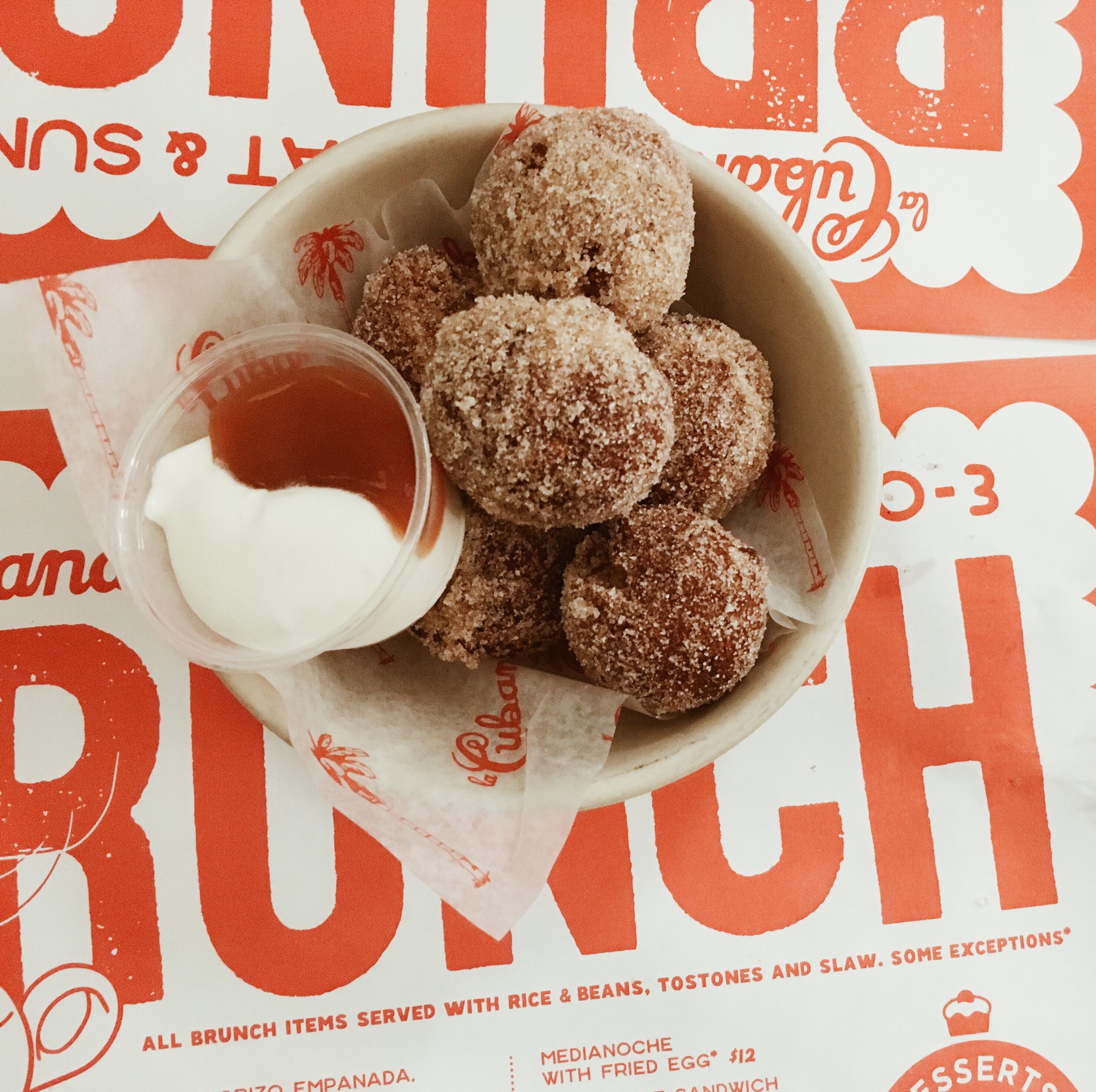 Mack was all about going to this Cuban place for lunch, called La Cubana, while I was like "meh" and didn't think it sounded too good. I think I was over caffeinated or somethin' along those lines, BUT IT WAS AMAZING, YALL. I WAS WRONG.
Mack's Order: Cubano Sandwich- Slow roasted pork, black forest ham, gruyere, cornichons and red onions.
My Order: Pork Belly, Pineapple Glaze, sunny side up eggs with a side of french fries.
Other options that I wish I had room in my belly belly for after how delicious our meals were:
It was THE most incredible pork belly I have ever had. We didn't even take pictures of our food cause we devoured it so quickly! Mack got a Mezcal cocktail and I got a MOJITO which definitely did a good job offsetting the caffeine but like an idiot I was on Day 32 of Whole 30 which meant that I wasn't supposed to be eating and drinking all the crazy things. But I did. Oops. And then we had doughnuts that were better than any doughnuts I'd ever had. After that, I had the worst sugar/alcohol/caffeine headache so we went home and napped. Ha. Serves me right, huh?
We had asked the server at La Cubana to tell us where we should get dinner and she recommended a sweet Taco place called Grand Electric. When we got there, it was packed and tiny (is it just me or are all the awesome places in Toronto in need of a space upgrade?) so we ended up putting our name in for the 45 min wait and walking down towards a bar we had heard of called Pretty Ugly. Sounds great right? WELL IT WAS. If you can handle the almost pitch black environment and the hipster ambience then you will love it. We had to stand with our drinks for a bit because (surprisingly) it was packed and not the biggest place.. but then we eventually got a seat at the bar. We were in awe at the bartenders mixology skills and our cocktails were 10/10. I would honestly drive to Toronto just to go there again.
Pretty Ugly (and pretty wonderful)
Tacos at Grand Electric
I got Crispy Cauliflower and Pork Belly tacos and Mack got the Tuna Belly and Grapefruit special. Both were phenomenal and tasted absolutely authentic. I will say that I would have been happier if we hadn't got sat at the bar because the stools were a little low for me to sit comfortably. That's my only qualm. But what's great about places like this for me is that my love for food and the way it makes my heart happy often outweighs minor annoyances like the bar stools being at a weird height. So all in all, I'd recommend this hip taco place to any taco lover.
We spent Day 2 exploring Ikea, and going around town and down to the water to take some pics. I attempted some film but I think I'll do more research next time. Any idea why they turned out with this heavy brown matte feel to them? I was using a Canon AE-1 and Kodak Portra 160 film. I did have my ISO set to 400 on the camera, I think. Was that the problem? Anyway. If you have insight to this, lemmee know!
Our next full day consisted of two incredible cuisine experiences and Guardians of the Galaxy 2 to celebrate our anniversary.
The Good Son was our lunch stop where Mack let me order a WHOLE bottle of wine (which we drank all of after Mack had his Negroni.
We were super giggly after that delicious meal and the copious amount we had to drink so we happily walked around and look in all the shop windows until I couldn't take the cold any longer. We took an Uber home for a short food coma nap because we knew exactly where we were heading for dinner...
MOMOFUKU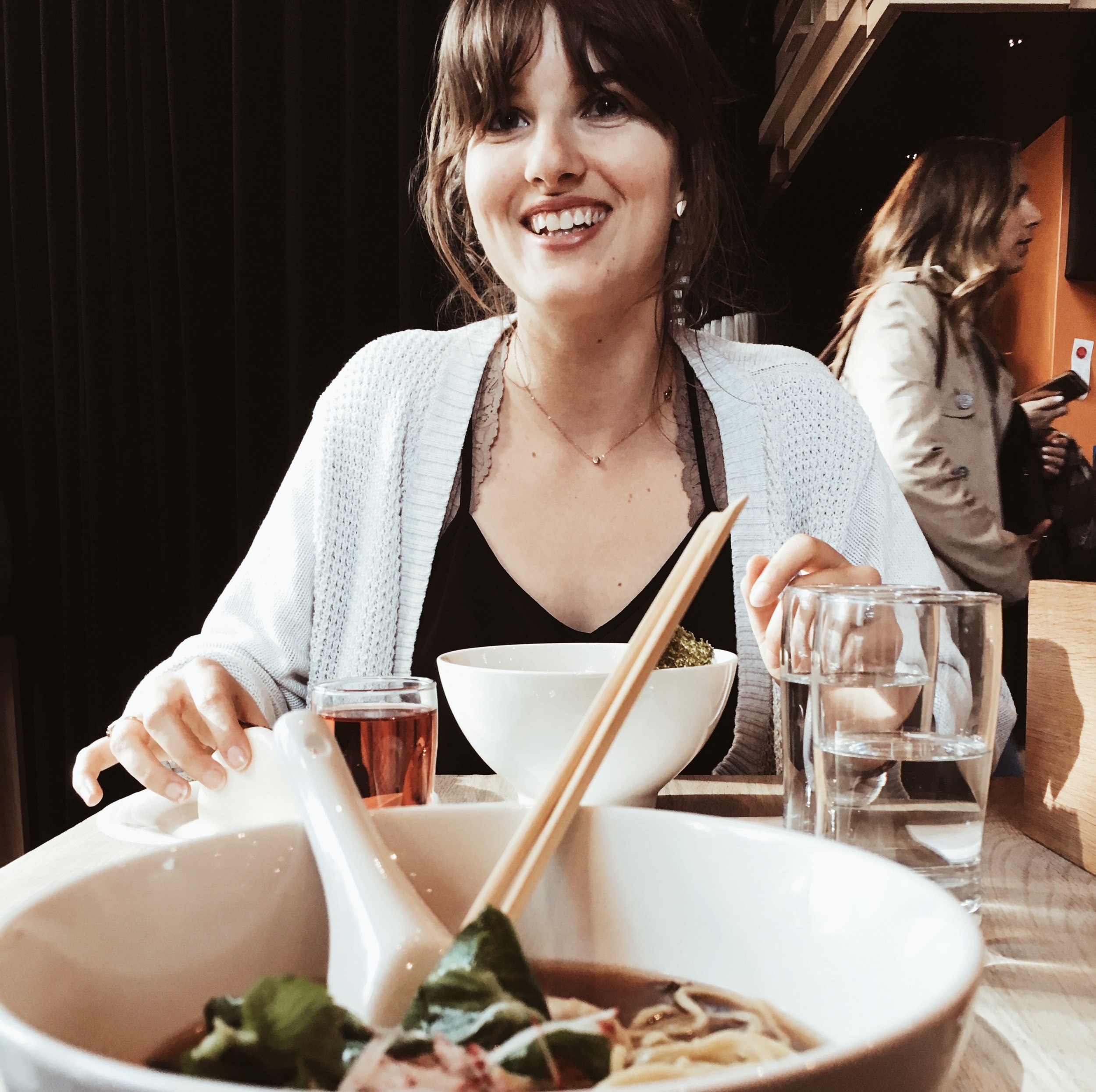 We didn't know really what to do to make our anniversary more special than the other two days had been, UNTIL we found out that there was a Momofuku Noodle Bar in Toronto. Momofuku is a restaurant concept started by David Chang, a world famous chef who hosts the PBS show Mind of a Chef. Mack has always been a big fan of Chang, so we had to stop by and try the ramen and steamed buns. Does that pork belly not make you drool?? I also got a fancy little 6 oz glass of Rosé to go with my meal and Mack got a cocktail.
After that we walked a couple blocks down to the movie theatre and saw Guardians of the Galaxy 2 which was actually really entertaining. We walked in and noticed that there was a bar with drinks and what not so once we sat down I basically begged Mack to go grab us a couple drinks. Apparently the bar was a VIP bar, but when Mack walked up and asked to order, the lady saw he didn't understand and took pity on him. She gave him the drinks and Mack came back only slightly flushed. We imbibed and laughed and then went home to sleep off all the delicious food and alcohol. The fact that Mack and I are always on the same page with the desire to find new and interesting places to eat and drink but can settle down and simply go see a movie makes me a happy human being.
This trip was one for the books and I would 100% suggest it for anyone wanting to take a break from Michigan and the U.S. and get a little out of their comfort zone. Toronto has a perfect mix of European lifestyle and American familiarity. We really really loved it and I look forward to sharing my next trip with you in the coming weeks! Stay tuned.
Warmly,
Walk
@wleighphoto @itsawanderfulife